Burger MADNESS!!!
Still remember the time back when you were small and came across those Ramli Burger at roadside? Back then, those were like the only option that I had to enjoy burgers apart from Mcd and KFC. And for years, they remained as the favourites among many locals. With price of less than RM5 for almost any burger choices, they are affordable for mostly every locals.
Well, the situation changed few years ago. Enter new burger joints!
Leave aside those at KL, I remember the first I encountered was Marshall Burger at Burma Road. I guess that was the first time I had a better quality burger than those Ramli Burger, not to mention thicker in size. Though they are priced slightly more expensive, the patty that came along with it justify the higher price we pay.
Then almost immediately, more and more burger stalls/shops started to sprawl all over the town. Immediately, Facebook is full with pictures of those burgers.
*drooling*
Of late, the establishment of new burger stalls seem to come to a halt, until I read of an article of Duchess Burger one day.
Duchess Burger, to put it in a short way, is the latest player to enter the burger food market. Located along Chulia Street, Duchess Burger is different in the sense that it operates from a truck. To be more precise about its location, it is situated right outside of Mugshot Cafe.
Spot this truck along Chulia Street and you will find Duchess Burger waiting for you!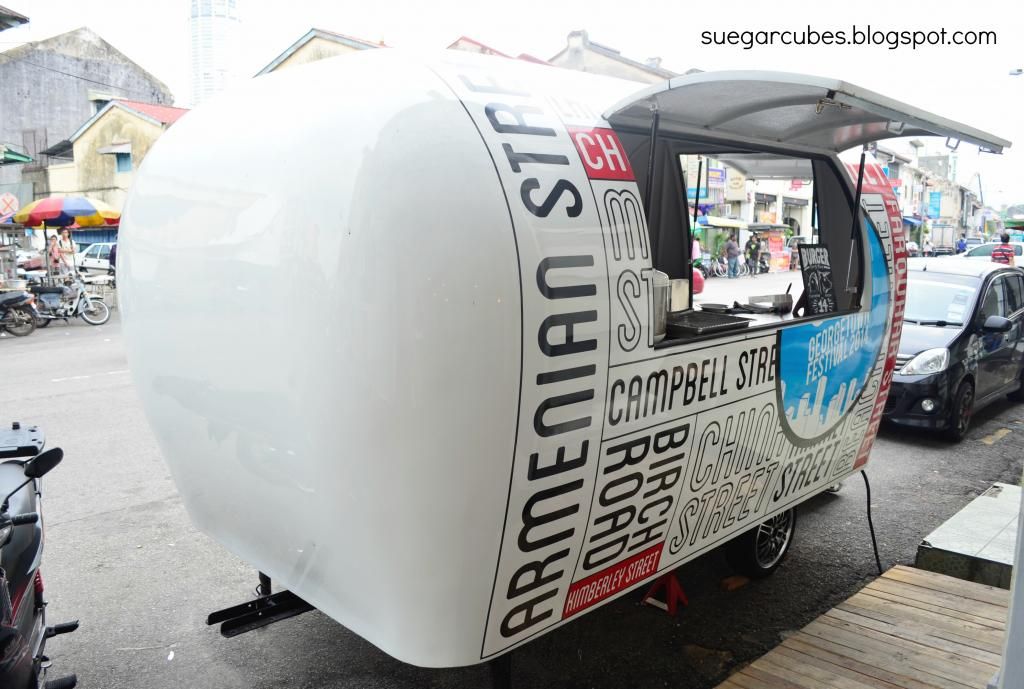 Duchess Burger truck from front view!
Unlike other burger joints which have many types of burgers for you to choose from, Duchess Burger serves either chicken burger or beef burger. While some may frown over the lack of choice, it actually works out well for me since I do not need to think long before ordering.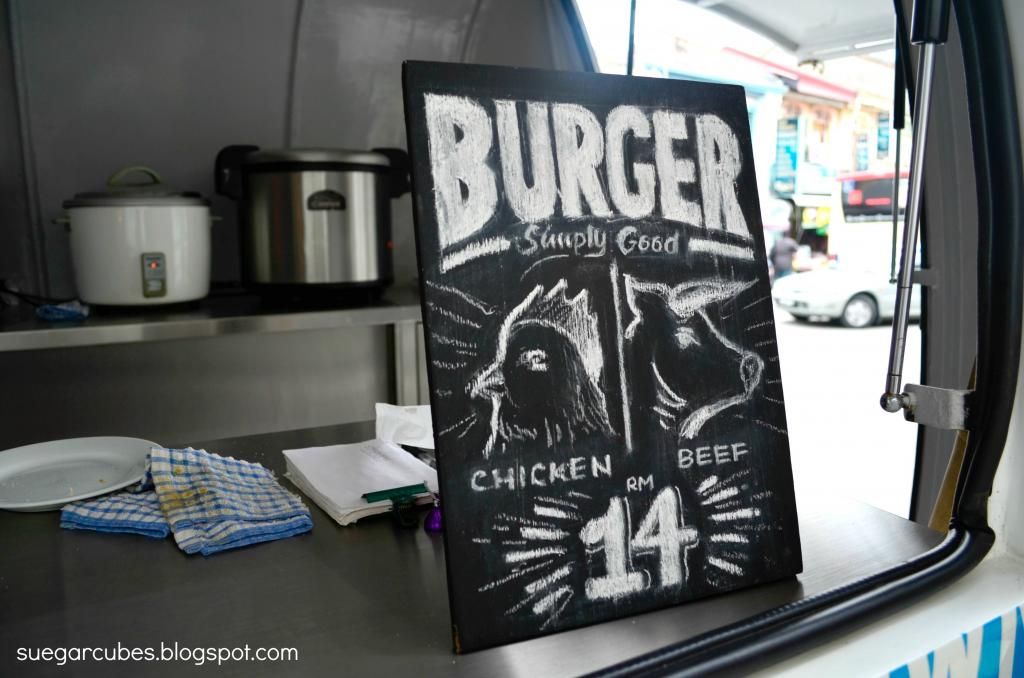 Chicken or Beef? RM14 each
Boyfie and I ordered one chicken burger and moved inside Mugshot Cafe while waiting to be served. I read from
here
that Duchess Burger is a collaboration between the co-founder of Mugshot Cafe and the founder of Marshall Burger. We actually spotted the founder of Marshall Burger sitting on a table right next to the truck while waiting to be served. How I come to recognize the founder? I sort of interviewed him before for one of my uni assignments.
It didn't take too long for us to be served. I guess we only waited for like around 5 minutes or 10.
Duchess Chicken Burger!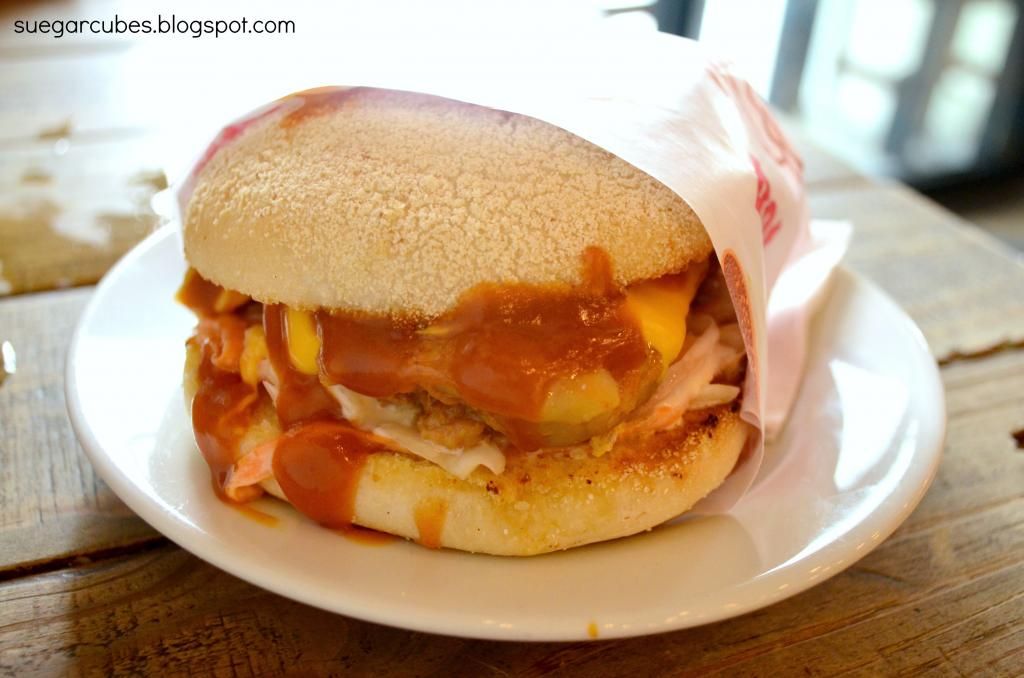 Yummy! Just look at the sauces!
The english muffins serving as the burger buns complement perfectly with the patty. I have tried many different burgers (and buns) but none of them is as good as this one. The chicken patty is also prepared to perfection such that it is not too hard nor too soft. It is so tender that you don't have to like literally pull or exert too much forces to bite it off from the burger. But brace yourself, fellow burger hunters, as things are going to be very messy.
What makes Duchess Burger so great is its sauces. You are bound to get your hand dirty once you start eating. Not even halfway through the burger and I already started to notice that it was extremely hard to keep both of my hands clean. When I tried to take care of the right side, the sauces will drip from the left side. And when I try to bite from the left, the sauces will spill onto my right hand. At first, I was trying to make effort to be extra careful so that the sauces will not be all over the place. Then, I figured that the burger was too good for me to take note of everything else. So, take away my image and I started to eat without giving regard to the sauces over my hand, plate, and table (oops!).
I then learn that Duchess Burger will be stationed right in front of Mugshot Cafe for the whole duration of George Town Festival 2014 (GTF 2014). So you will still be able to get your Duchess Burger at Chulia Street from now until the end of August. Duchess Burger operates 24/7, with its operating hours from 12pm to 12am. So, what are you waiting for? Go and get your hands dirty!
Duchess Burger
Location: Chulia Street (in front of Mugshot Cafe)
Operating Hours: 12pm to 12am daily